Powered Paragliding
A full service powered paraglider training, sales and service center is now available for the first time in Oregon and the Southwest Washington area! We now have programs available for:
• Pilots learning powered paragliding flight from the ground up....
• Powered paragliding conversion courses for foot launched soaring pilots....
• Foot launched mountain courses for paramotor pilots wishing to learn unpowered skills....
• Towing skills and USHPA Tow Pilot courses and sign offs.....
• Local training minutes from downtown Portland, Oregon....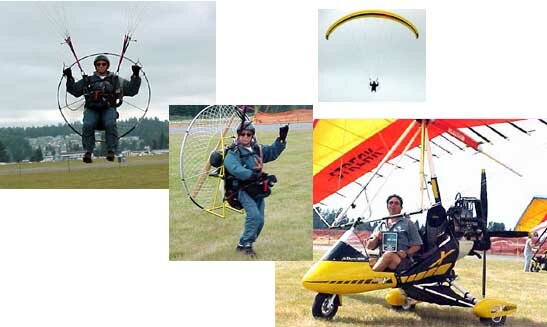 OVER THE HILL PARAMOTOR: We sell and service most major brands of paramotoring gear and are the OREGON & SW WASHINGTON exclusive authorized dealer for the innovative new 41 lb MINIPLANE paramotor powerpack. We think that this quiet lightweight new motor will revolutionize the sport of powered paragliding.
For more details go to the MINIPLANE page. Thereus an english version on their home page.
For more information that is not on this website or to sign up for classes call us at 503-667-4557 and/or go to the SIGN UP FORM.
Fly happy and safe... Larry Pindar OVER THE HILL PARAGLIDING/POWERED PARAGLIDING 503.667.4557 Fax 503.666.6979